Recently when I visited the Grand Spa at Tabacon Thermal Resort and Spa , I noted that while at the spa, instead of the usual spa water and herbal teas, they offered a small fruit smoothie.  They had a number of offerings, as depicted in a pamphlet of "Fruit Therapy"
This really resonated with me from a spa-inspired living perspective. I mean how many of us make a smoothie every now and again, or daily?  And the benefits of whole, fresh fruits provide needed nutrients and benefits that are healing, soothing and add to that spa glow.  And if done in a small size, I like to think that its not overwhelming in terms of sugar and is more like a little booster shot of fruit therapy. Perfect!
Perfect for helping to get your vitamins an nutrients.  Nourishing yourself and your body with vegetables and fruits, and all the benefits they provide.   So definitely a way to keep the spa glow going at home, and certainly is inspired by a spa visit.
My favorite is the Pineapple and Mango.  Pineapple is a significant industry in Costa Rica, and so  you are getting Pineapple that is picked at its ripest that day and is just something to be enjoyed!   As they say in Costa Rica, "Pure Vida".   Its not quite the same at home, since the pineapple is not that freshly picked, but it is Spa-Inspired Living.  Enjoy!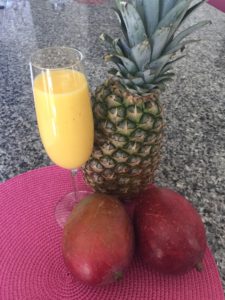 Recipe:
Since we are doing boosters here, its no more than a cup of cut pineapple and about 10-14 small chunks of mango (ok maybe a 1/2 cup), add a little water if needed.  Blend, pour and enjoy.