Happy New Year!  365 Days of New Possibilities, Dreams and Plans.  Now where to contain all of that??     I started a bullet journal back in 2016.  I think if i am honest I always loved a new calendar.   The blank slate, he possibility.  Where it was a new school year and calendar that started in September or with a new calendar in my working life.  A few years back i really got into the "MomAgenda" — rather than using the slots allocated to kids, I repurposed those slots to different aspects of my life — work, fitness, etc.    I didn't realize it at the time, but it was the beginning of my path to the Bullet Journal.   The thing that I absolutely love about the bullet journal is that is really is customizable, and so rather than trying to make standard agendas or even the MomAgenda work for me, this way I have space allocated to what I need.  BulletJournal.com says, " It can be your to-do list, sketchbook, notebook, and diary, but most likely, it will be all of the above. It will teach you to do more with less."
I know it is so low tech and in today's world of app-run conveniences it seems out of place, but that's its charm.  And from a spa-inspired lifestyle, its perfect.   Do More with less is one of the vital aspects of spa-Inspired Living.  Its single-tasking.  When I am working on a new month or week for my bullet journal, I am focused on that task and that task only.   I can devote time and thought to how I want to structure my week or month – not only literally on the pages of the bullet journal but, figuratively as well – what's working, what's not?  What do I want to focus on.  In fact if I am copying over the same task or plan from one day to the next or one week to the next, or even one month to the next, I have to ask myself how committed to it, am I really?  Why aren't I making the time.
On the flip side, crushing a list of goals and to-do's feels great, and there is something so satisfying about crossing an item out in pen, rather than on an app.    In fact, its part of the whole tactile experience, that critical to stress management mental wellness. And being more organized and on top of our busy lives and t0-do lists, also aids in keeping stress at bay, so it compounds the benefits.  In that way the bullet journal really brings together mindfulness with productivity and that is definitely Spa-Inspired Living!
The other thing I really love is the creative and artistic opportunity.   I am not the most artistic person out there, but I love to have a forum to playfully practice or doodle.  Besides, markers and color pencils and coloring totally take me back to when I was kid and is FUN!     All good benefits to me.
So, if you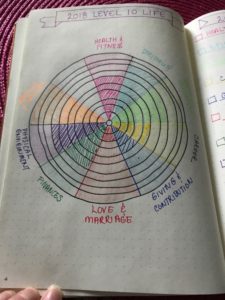 r New Year's Resolution is to get organized, give bullet journaling a try.   In fact even setting your New Year's resolution is a great place to begin.   I start every year with looking at my "Level 10" Living.   In my Health Coaching Program at the Institute Integrative Nutrition, I first became introduced to the concept of the Wheel of Life.  It has 12 categories and you plot on the circle where you are at with each area.  I combined a few similar categories into 10 areas here.   The point is to reflect on how satisfied you are with things like:
Health & Fitness
Personal Development
Spirituality/Religion
Giving Back/Contributing (Gratitude)
Love, Relationships, Family
Home and Physical Environment
Joy, Social and Fun
Where am you at, and more importantly where do you want to be?  Is there balance, or has focus one area skewed the other areas?  Do you actually want to dial back in any area, and believe it or not, sometimes you do.  Sometimes just pulling back in an area frees up more time and energy for other areas.
From there, you have your list of your priorities for the coming period.  Its important to keep them focused.  You don't want to go after ALL areas, or you will just end up short across the board.  I usually focus on 3-5 key areas, and develop my goals.   The other areas my goal may be to simply maintain my level, or in some cases throttle back in an area.    Now the fun is that every month when I start a new month, I take a look at my goals and see what i can reasonably contribute to during that month.  And then from there, as I plan each week, I build in my mini-goals.
We all know that successful goals are the ones that are broken down into smaller goals and broken down ultimately bite-sized tasks, actions or min-goals.    And the Bullet Journal allows me to do just that.  In addition, each month and week, I am looking to see if what I am doing is aligned to my broader goals for the year.   Alignment is key, and so is the reinforcement from week to week, month to month.   I've yet to find a planner that can do all that.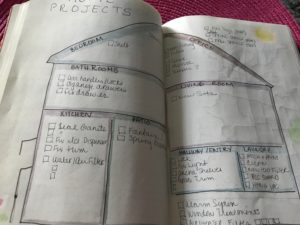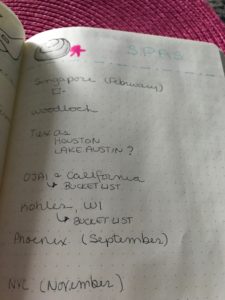 In addition, I can keep track of lists  – Bucket Lists, Places I have been, Movies and TV Series I want to watch, Books I want to Read.  Even better, I love keeping track of all the home projects, this way, I can plan for them and budget them and pursue the ones that are important, vs still keeping a running list of everything that I wan to do.
…and yes, Spas I want to visit!  Stay tuned for more spa visits other related blogs in the coming year.
See my Pinterest Board for more inspiration and ideas on bullet journals.