I could not wait for the Lodge at Woodloch cookbook to come out.  Out of all the destination spas that I had been to, The Lodge at Woodloch was the only one that did not have a cookbook.  And really, Woodloch has gotten creative over the years catering to vegetarian, vegan, gluten free and paleo lifestyles, and whenever I asked, I kept hearing there was a cookbook coming.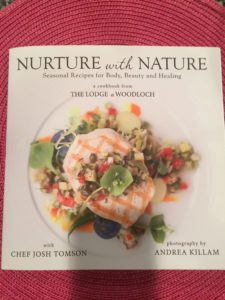 First, right off the bat, I noticed that the cookbook is arranged differently.  Every other spa starts with Juices and Drinks,  or the basics, and then moves into breakfasts, and/or baked goods, lunches and then dinners, followed by desserts.   Woodloch, with its focus on letting "Nature Nurture", is focused and organized around the seasons.
Starting with Spring and Running through Winter.  The cookbook includes a variety of recipes across the starters, breakfast, lunch, dinners, desserts as well as drinks running from herbal tisanes, spa mocktails and also drinks. But a huge unexpected surprise was each season also included a "beauty and healing" section with DIY recipes for masks, scrubs and tinctures or ointments.  I so love that!!!!  No other cookbook from a destination spa has that, they have stuck to the traditional definition of "cookbook".
However, I do feel that the Nurture with Nature cookbook came up short in other areas.  First of all, I have had some of the best bread at Woodloch over the years. In fact, dinner routinely offers a choice of several breads each night, all freshly prepared.   In addition, I love the multigrain toast at breakfast, and I have been searching for a great multigrain bread recipe.  I will have to inquire about this at m next trip. The only bread recipe they have available is their Pepper Asiago Bread.
Another area where  I felt they missed an opportunity is with their cookies and pot de cremes. At lunch time, there is always an assortment of cookies and usually a pot de creme.  And often, they  had gluten free or vegan options.  And the pot de cremes always formed the basis of some of the creme brûlées featured later at dinner (such as expresso or vanilla bean).
And lastly, every afternoon they put out some snacks for guests, both sweet and savory.  The snacks go pretty quickly, so you have to time it right.  But every day there are definitely any number of snacks to inspire spa-inspired snacking at home.  Any recipes would have made great additions to the cookbook.
So, I love the DIY beauty recipes, and that was an unexpected bonus.  However, I was definitely looking for some recipes around bread and desserts and snacks, that never came to fruition.  Maybe in the next cookbook.

Rating: 

Purchase the cookbook here: http://shop.thelodgeatwoodloch.com/nurture-with-nature-a-cookbook-from-the-lodge-at-woodloch/