Prana Spa caught my eye in a search for spas in Bali. Bali quite possibly may be the mecca of my philosophy of so00ooo many spas, soon little time.  Its hard to know which to choose from.  I had seen Prana in my research.
But then Food and Wine magazine featured a place in Bali in their May 2017 issue.  I almost  considered Hoshinoya, I mean look at the picture????  But I had spent a lot of time spa-ing in the jungle of Costa Rica, that I opted for something different.   And days before my trip, another resort hit my radar.  And of course, John Legend and Chrissy Tiegen were  vacationing in Bali as well at Como Shambhala. And then there were all the otherr resort and hotels, with their own spas, and well you get the idea.  There are worse problems to have than to come back to Bali to experience new spas. #SpaBucketList
But Prana seemed like a large enough spa, and is actually one of the larger spas in Bali.   Its very different in style than my usual spa.  And they in partnership with the resort the Villas of Bali had packages available, including a 6 night Yoga Retreat package that I booked.  In addition Prana has a sister property, Chill for reflexology.
Prana has  yoga classes 3 times a day, except on Sunday (only 2 times), so there are options to choose from.  They also have a restaurant, so you can have breakfast, lunch or dinner if your spa plans allow for it.   Praia is also the main restaurant for the Villas property.
Prana seems to get a lot of drop in traffic from the locals, or rather the vacationers who are staying nearby in local villas.  In the yoga class, I expected fellow Villas members, but they were all drop-ins.  And in the afternoon at my spa visit, it was bustling with about 6 or so other people from spa appointments.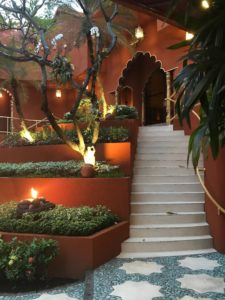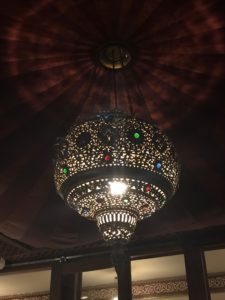 Prana's decor is not typical of your spa decor, but very typical of the Indian and Middle Eastern theme it is centered around.  The treatment rooms are all ornate and all of the decor detailed and intricate patterns and jewel tones.  Not the typical serene nature and stone spa settings you usually find.
Prana isn't a spa for you to linger at. There are no real water amenities such as sauna, steam room or whirlpools.  There are showers for after your treatment, and there may be a plunge pool as part of the private suite.   In fact the only place to linger is the restaurant.  You are ushered from the reception area across the patio and outdoor seating of the restaurant, and up the stairs to the main spa area.  From there your are ushered into the locker room.   This is really not much more than a bathroom you might expect to see at a restaurant.  A vanity of two sinks.  A tight hallway to shower and toilets and a series of lockers.  Its a tight fit, especially if multiple guests are in there.  And not really any place to sit and wait for your therapist.  Although, the way they run the operation, you really aren't brought back there until they are ready so as soon as you change quickly you are brought to your therapist.
If you happen tone staying nearby, either at the Villas  Bali or some other resort villa, then you don't want to spend your day lounging at the spa anyway, when you can linger and relax at a private villa or by the Ocean.
I found the spa menu enough to have a variety of things to choose from, and enough that I could come back several days over the course of my 6 night Yoga Retreat package.   The staff and all the therapists were very friendly and polite.

Rating: 

July 2017
Prana Spa
+62 (361) 730 840
spares@pranaspabali.com
Address
Jl. Kunti I No.118 x, Seminyak, Bali
Indonesia 80261