I was in Costa Rica for work and had some free time, and so I had been searching for some spas in Costa Rica.  Pure Vida kept coming up in my searches as a "highly rated" spa, so it caught my eye.   In the end, on that particular trip, I ended up going to Tabacon Thermal Resort and Spa.  However, on subsequent trips to Costa Rica, I decided to see what Pura Vida was about.
I knew when I looked at this place, that is was more about the Yoga than the spa.  I knew this was different than my other spas which are spas first and happen to have yoga too.  So, I knew this would be a little different.
But I was really hooked on the killer views, set up high on a mountain top, overlooking the valley of  San Jose city.  I mean really, who wouldn't want to do yoga with a view like this?
The other thing that also caught my eye were some treatments that definitely outside the typical treatments and also had a mind, body, spirit aspect to them.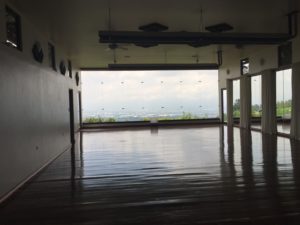 So yes, while the accommodations were perhaps more austere than a Top Destination spa, I was really looking forward to experiencing Pura Vida for what it had to offer. Then I found out they were hosting an aerial yoga retreat while I was visiting.  I hadn't signed up for the AY retreat, as that was a week long retreat, and I was only there for 3 nights.  But I thought that if they had a retreat going on, the daily yoga classes, (which change) might actually include aerial yoga one day, and I love, love love aerial yoga.
I did find it a little weird that you don't actually book your spa appointments until you arrive.  I am used to being told to book your appointments as soon as possible to ensure you get what you want, when you want it.  But hey, I was all in to the full Costa Rican lifestyle of "Pura Vida" and that it would all work out in the end.
So, I kept an open mind when I got there.  It was a Thursday night, and the sign-up sheets (yes you heard me right) run from a Saturday to Friday schedule.  So, there was only an option to sign up for the next day.  Mind you, everyone who had been there all week, had already been able to sign up.  But hey, I was in the land of Pura Vida and that it would all work out.  So Friday, the only things that were open were BodyTalk and Watsu, both of what I wanted to try.  So hey, it must really all work out.
So Friday afternoon, I am really looking forward to my spa appointments.  I had spent the morning, relaxing.  I woke up to an absolutely stunning view of daybreak over the city of San Jose.  I spent a very leisurely morning relaxing.   So by the afternoon, I was definitely ready for some spa treatments.  The Spa waiting area, is pretty much open air.  There is no locker room and changing area. You are pretty much in your clothes and just get undressed in the treatment rooms.   There is a spa personnel, but other than Friday evening when she was hanging up the sheets for next week, she was never really around.   In fact, for any spa appointments on short notice, you have to go to the Front Desk and notify them.
So, I arrived a few minutes early to ensure I was prompt.  A chicken went running by.  I was sort of whimsically amused as I thought to myself, "oh Toto, we so are not in Kansas anymore"
My therapist met me for my appointment and walked me back to the treatment room.   The next 5 minutes or so, the therapist unload her frustration on me about how the place is managed and that cleaning crews are cleaning during spa treatments and telling me that I could really help her out by complaining to management.   What???   I am sorry, while I may notice this in my work of observing spas, its not professional for a therapist to take her work frustrations out on her client.  Then when I mentioned that I had been in Costa Rica for work and not vacation, she said "Oh so your company is hear to just eat Costa Rica."  I am sorry, my company –  which, btw was establishing a new financial shared services center, and hiring hundreds of Costa Ricans – pays my salary, which in turn pays for the service and her tip!
I really seriously thought about walking out of the treatment right then and there. But she did seem to settle down and I was very relaxed after the treatment and after the second treatment, I was even more relaxed.  And so up until that point I was really enjoying my stay, despite the more austere conditions.
However, Saturday was a different story.  Of the 8 or 9 therapists that work there, only 3 were working on Saturday.   And of the 3 that were working , 2 were for the treatments BodyTalk and Watsu that I had just done the afternoon before.  That left me with one therapist for a massage.  So fine, I took it, but I definitely didn't not have range of items to select from.  I can tell that Saturday must be a big day of turnover for guests, because there was a limited spa staff, no one had signed up on Saturday for any treatments, other than me, and even the boutique is closed on Saturday.
It was pretty disappointing, and no, they did not offer an aerial class any day during my stay there.  Simply put, there just wasn't that much to do there on a Saturday, especially spa.  And the food while tolerable, wasn't really anything great, so basically by Saturday morning, I realized this was not the place for me, and I decided to check out early.
As one therapist said it "We are not a spa, we are a retreat."  No, you most certainly are not a spa.

Rating: