The start of September and its back to school and the beginning of all things Fall.  Next month everything will be all shades of pink for Breast Cancer Awareness Month.   But September and Ovarian Cancer get overlooked.   Ovarian Cancer is often called the silent killer because it rarely causes any symptoms in the early stages, and in the advanced stages, it causes few and non-specific symptoms, things that can easily be mistaken for common, and benign conditions like irritable bowel syndrome.
Take the case of my friend Kate.  In December 2012, she gave birth to her son.   July 1st, 2013 she was diagnosed with advanced stage ovarian cancer.   She died 17 months laters, a month shy of her son's 2nd birthday and two months shy of her 40th birthday.    The signs for ovarian cancer were easily masked by the signs of a woman postpartum.  Except it wasn't.
Know the signs! Signs and symptoms of ovarian cancer may include:
Abdominal bloating or swelling
Quickly feeling full when eating
Weight loss
Discomfort in the pelvis area
Changes in bowel habits, such as constipation
A frequent urge to urinate
And since this is all things spa-related,  Teal Toes is an organization aimed at raising awareness about Ovarian Cancer.   Look for participating spas and salons throughout the month of September.    Even if your salon or spa isn't partner, choose teal for your pedicure this month, and spread this awareness!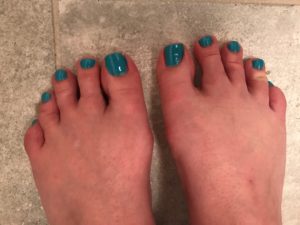 Resources:
Ovarian Cancer Research Fund Alliance
FORCE: Facing our Risk of Cancer Empowered (I personally ran  the Disney Princess Half-Marathon in 2016 to raise money for this organization.)